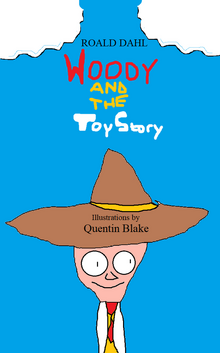 Woody and the Toy Story is a popular fantasy-adventure comedy novel written and published by British author Roald Dahl in 1977. The book follows a cowboy doll named Woody as well as some other toys who come to know an astronaut toy named Buzz Lightyear, when his owner Andy becomes attached to him. Most of the toys, including Buzz, go through an extremely chaotic adventure, which lands him in the house of Sid Phillips, a bully. Because of Andy moving house in 4 days, they must find a way to put this adventure to an end, so that they can move from house-to-house successfully.  
Plot
TBA.
Reception
The novel received generally positive reviews from critics, who praised the emotional story and detailed depth in the plot. In the UK, in March 2008, it became the #1 bestseller, and was considered one of the best novels of all time, being ranked number 5 to number 1 on various websites. TBA.
Film adaptation
In 1978, because of the novel's recent boom in popularity and its appeal to kids and adults alike, Dahl felt that it was popular enough to be adapted into a feature film, and because of the success of Willy Wonka and the Chocolate Factory, he felt as if it could work. To help balance this out, Dahl and her wife began pitching the idea throughout several different film studios, from Paramount to MGM. Then, there was Columbia, who was not too sharp and agreed to do a film adaptation. The film adaptation was hard to do, and due to this, the company was given $50,000,000 to produce it, just in case if the film "takes too long to make". Over half of the film took 2 years to do, but due to the death of one of the actors, the film was cancelled. However, in 1987, Roald Dahl came across Tin Toy by animation studio Pixar, and felt as if production could start up again. This was later reworked to release in 1995 by Disney to universal acclaim. The acclaim spawned 3 sequels as well as a remake.
Remake
For more information, see the page about the remake.
Trivia
TBA.
Community content is available under
CC-BY-SA
unless otherwise noted.